The 6.8-magnitude tremor resulted in the killing of around 300 people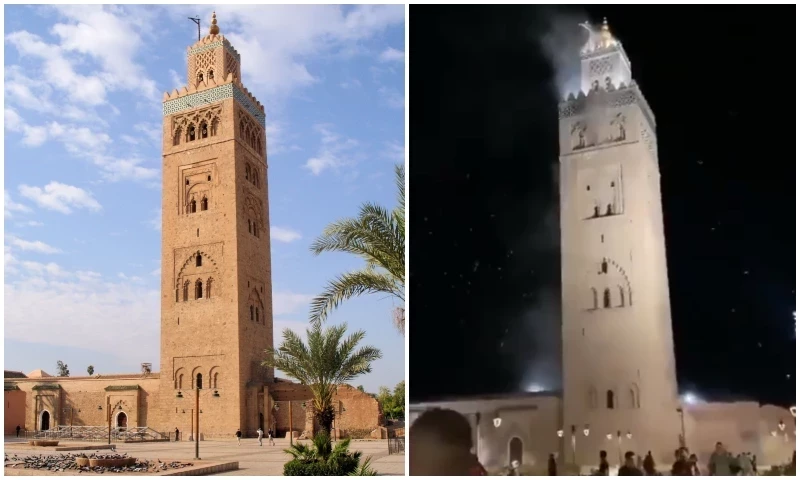 The structure of the historic Kutubiyya Mosque in Marrakesh city of Morocco was badly damaged after a powerful earthquake jolted the city Friday night.
Videos shared on social media showed the building of the mosque shaking as people ran out and screaming near the 12th-century Kutubiyya Mosque, one of the city's most famed landmarks.
Over 800 people have died after a powerful earthquake rattled Morocco. Terrified residents of Marrakesh reported "unbearable" screams followed the 6.8-magnitude tremor.
Reports said that Kutubiya Mosque suffered damage, but the extent was not immediately clear. Its 69-meter (226-foot) minaret is known as the "roof of Marrakesh."
The citizens also posted videos showing parts of the famous red walls that surround the old city of Marrakesh, a UNESCO World Heritage site, damaged.
The mosque is situated in the Medina quarters of historic Marrakesh city, founded in 1070–72 by the Almoravids. The city remained a political, economic and cultural centre for a long period.
Its influence was felt throughout the Western Muslim world, from North Africa to Andalusia. The city has several impressive monuments dating from that period including the Kasbah, the battlements, monumental doors, and gardens.
For the latest news, follow us on Twitter @Aaj_Urdu. We are also on Facebook, Instagram and YouTube.
Taboola
Taboola ads will show in this div
Next Story