IHC postpones the hearing until August 11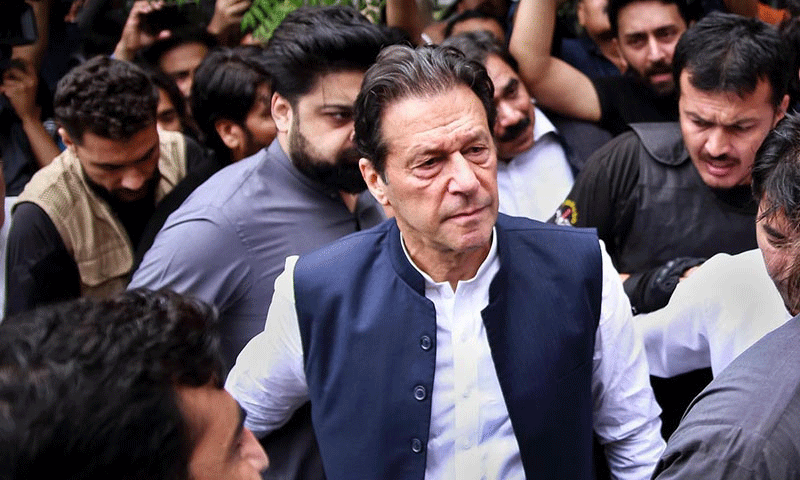 The Islamabad High Court has postponed the hearing of a PTI petition for moving party chairman Imran Khan from Attock district jail to Rawalpindi's Adiala prison and to give him A-Class facilities, without giving any order.
If the former prime minister does not win relief from any other court, he will be spending at least another two days in this relative remote prison away from party's tradition support bases.
The Islamabad High Court (IHC) is also set to hear an appeal from the PTI against Khan's conviction in the Toshakhana criminal case which led to his three year jail sentence and arrest on Saturday, August 5. A division bench meets at 12pm today (Wednesday).
The PTI petition for moving Imran Khan to Adiala prison and giving him A-Class facilities was heard by IHC Chief Justice Aamir Farooq.
Chairman PTI's lawyer Sher Afzal Marwat told the court that he went to Attock jail on Tuesday according to the court order, but he was not allowed to meet Imran Khan.
The Chief Justice asked the lawyer if there is any time to meet in jail. On which the lawyer Sher Afzal said that the meeting time is till 6pm.
He also told the court that the FIA summoned a lawyer of Imran Khan, Naeem Panjutha and interrogated him for several hours while the agency has summoned another lawyer Khawaja Haris today.
The chief justice remarked that the investigation does not mean permission to harassing anyone. "I will look at it from the administrator's side and ensure that law is not violated," he said.
Lawyer Sher Afzal pleaded that the court should pass order allowing people on list to meet Imran Khan.
The chief justice remarked that he will order but the PTI should ensure that the meeting does not turn into a political assembly.
Afzal assured that all people will not go at once.
The lawyer said that the PTI chief was entitled to A-class facilities, but he was kept in a 9×5 feet cell. There are mosquitoes and insects and rainwater also entered the cell, he told the court.
Additional advocate general Punjab told the court that Chairman PTI was kept in Attock Jail due to security risk.
The lawyer also sought permission for Imran Khan to be allowed to receive homemade meals in jail.
He urged the court to hear the case again on Thursday, however, the chief justice postponed the hearing until Friday, August 11, serving notices on Punjab and federal governments for a response.
The PTI chief was arrested from his Zaman Park residence on Saturday within half an hour after an Islamabad court found him guilty of 'corrupt practices' and sentenced him to three years in jail.
He was then swiftly moved to high-security Attock jail over 400 kilometres away.
The authorities on Tuesday moved around 985 PTI supporters being held in Attock prison to Adiala.
The authorities believed that allowing PTI workers to stay in jail while Imran Khan was there entailed a security risk, said the sources. Hence, they were removed from the prison and sent to Rawalpindi.
For the latest news, follow us on Twitter @Aaj_Urdu. We are also on Facebook, Instagram and YouTube.
Taboola
Taboola ads will show in this div
Next Story