His imprisonment has raised fresh concerns of violence ahead of an election due later this year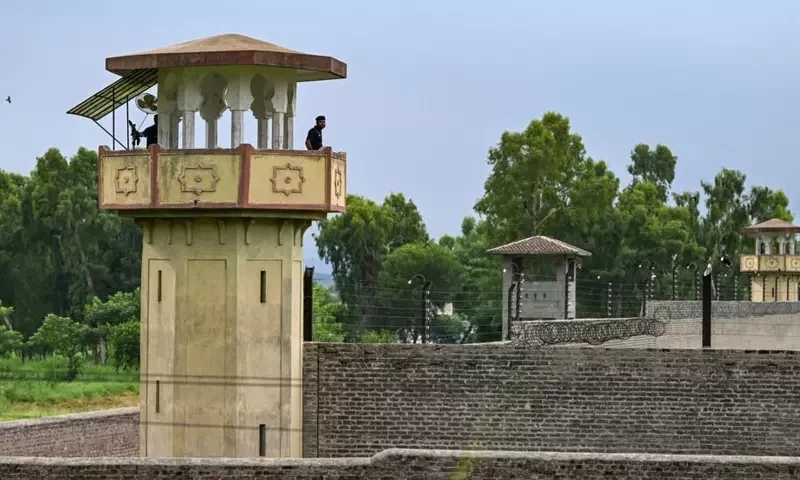 Former prime minister Imran Khan's three-year sentence for graft prompted scattered rallies around the country, but there was no sign of any mass uprising Sunday despite his call for supporters to protest.
His imprisonment has raised fresh concerns of violence ahead of an election due later this year – that he is now disqualified from contesting – and has cast doubt on the fairness of any vote that excludes him.
His lawyers complained Sunday they were being denied access to him for consultations so they can mount urgent legal challenges against his conviction.
They also raised concern for his confinement at Attock Jail, established 100 years ago on the outskirts of historical Attock city, around 60 kilometres (40 miles) west of the capital, Islamabad.
"He is a 70-year-old man and a former elected prime minister so legally he should be given a better class (of conditions) inside the jail," said Gohar Khan, a member of his legal team.
Officials from his Pakistan Tehreek-e-Insaf (PTI) party said around 50 supporters had been detained overnight as police moved swiftly against protests after Khan was arrested and whisked into jail.
At a court hearing not attended by the ex-premier Saturday, a judge found him guilty of graft in relation to gifts he received while prime minister and sentenced him to three years in jail.
Anyone convicted of a criminal offence is disqualified from contesting elections in Pakistan, and parliament is likely to be dissolved in the next two weeks, just before it completes its term.
A general election is due to be held by mid-November, but there is speculation the polls could be delayed following the release on Saturday of the country's latest census results, which necessitates the redrawing of constituencies under Pakistani law.
Read: Sessions judge showed bias in Toshakhana case proceedings, says SBCA president
Khan's arrest and detention for three days in connection with the same case in May, sparked deadly violence when his supporters took to the streets in the tens of thousands, clashing with police.
In the aftermath of his release, PTI has been targeted by a crackdown with thousands of arrests, reports of intimidation and muzzling of the press.
Khan was prime minister until April last year, when he was ousted in a vote of no-confidence he says was engineered by the country's powerful military.
'Don't sit silently'
Soon after police picked him up from his home in Lahore Saturday, a pre-recorded video was released on Khan's social media accounts calling for his supporters to protest in force.
"I have just one request and appeal, that you are not to sit silently at home," he said.
"This is a war for justice, for your rights, for your freedom… chains don't just fall off, they have to be broken. You must continue peaceful protest until you get your rights."
But party officials said Sunday there were no plans for a nationwide call to protest.
"As far as protests go, there's not a planned one as yesterday protesters were raided by the police and detained," an official, who asked not to be named, said.
Police were deployed in major centres across the country after Khan's arrest, and moved quickly to disperse gatherings of PTI supporters.
Officials said around 35 people were detained in eastern Lahore, and 20 in the port city of Karachi.
In Khyber Pakhtunkhwa, the northern province that has long been a Khan stronghold, authorities said more than 150 PTI supporters had been picked up.
Political turmoil
Khan's jailing will do little to calm the economic and political unrest that has roiled the nation for the past 18 months.
"Everyone will ask questions about the credibility of elections in the absence of PTI and Imran Khan and questions will be raised about the credibility of elections in the outside world as well," political analyst Hasan Askari told AFP.
Khan rose to power in 2018 on a wave of popular support, an anti-corruption manifesto, and the backing of the powerful military establishment.
Read: Imran Khan lands in Attock prison as roads around the jail close
When he was ousted in April last year, analysts said it was because he lost the support of the top generals.
Khan has faced a slew of court cases on charges he says are politically motivated since being ousted.
The case that has led to his imprisonment centres on gifts he and his wife received while in office.
Pakistan newspapers have for months carried lurid stories alleging Khan and his wife received lavish presents worth millions during trips abroad – including luxury watches, jewellery, designer handbags and perfumes.
Government officials must declare all gifts, but are allowed to keep those below a certain value or buy them at an officially agreed price.
For the latest news, follow us on Twitter @Aaj_Urdu. We are also on Facebook, Instagram and YouTube.
Taboola
Taboola ads will show in this div
Next Story