Calls Alvi's letter a 'PTI press release'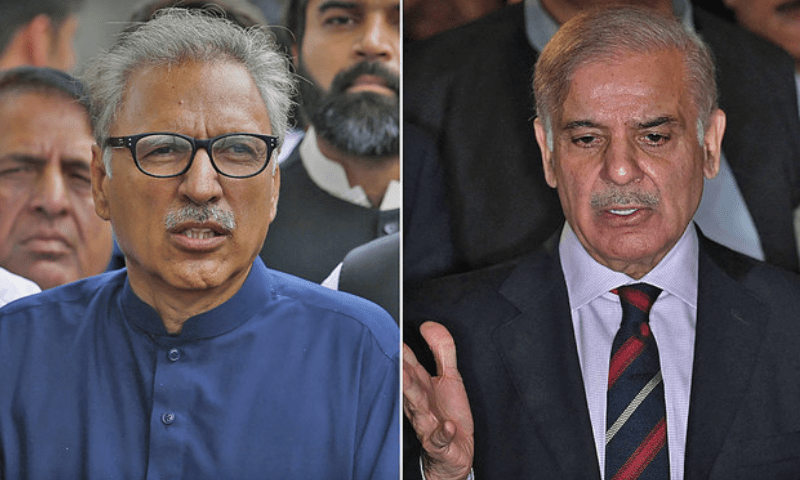 PM Shehbaz Sharif hit back at President Arif Alvi on Sunday, calling his March 24 letter a 'PTI press release' and labelling his attitude as partisan.
Shehbaz wrote that he had foregone many instances of such 'partisanship' but had chosen to respond to this letter to set the record straight.
"The contents of your letter, its tone and language have compeeled me to respond to it," the letter says.
The prime minister wrote that he is 'fully aware' of his responsibilites to safeguard the constitution and will not let anyone harm Pakistan.
It says that there is no validity in the presidents claims that human and fundamental rights are beign violated because due process and legal access is being afforded to all. It adds that the president seems only to be concerned with violations that are affecting PTI.
The letter also tells President Alvi that he has 'failed to note' how Imran Khan has been flouting the law by holding protests and refusing to turn up at court proceedings. It once again uses the word 'militant' to describe the PTI's attitude.
Shehbaz also claimed in the latter that the current government is ensuring 'complete' freedom of expression and that oppressive tactics against media and opposition parties were actually a major feature of PTI's government. Shehbaz also said that no part of the constitution allows the president to seek and explanation from the PM.
The letter also says that President Alvi announced election dates for Punjab on the behest of the party is part of and failed to notice that dissolution of assemblies was based on 'malafide intent' and was used as a blackmail tool to force elections in the center.
The letter also says that the decision to postpone elections in Punjab from April 30 to October 8 was the decision and prerogative of the Election Commission. It also says that President Alvi did not note the 'aggressive language' used by PTI against the ECP.
The letter also responds to President Alvi's call for meaningful consultation and says that there is no such compulsion on the PM. The only thing a PM ought to do, the letter says, is keep the President informed. "Nothing more nothing less."
"I want to further assure you that our government will thwart any efforts to undermine the constitutionally elected government," the letter adds.
PTI's response
Responding to the PM's letter, PTI leader Fawad Chaudhry said if new elections had been called, Pakistan would not be in the crisis it is right now.
"The president advised the PM to follow the constitution, of course he thinks it is a PTI press release."
For the latest news, follow us on Twitter @Aaj_Urdu. We are also on Facebook, Instagram and YouTube.