Fake images circulated after a massive earthquake in Turkiye and Syria
You have probably come across social media posts with a photo of a dog sitting among the rubble of a house destroyed by an earthquake. An arm of someone trapped under the concrete structure extends out to the dog. If the social media post is recent, chances are people have linked it to the massive February 6 earthquake in Turkey.
An emotional story indeed! But not true.
This image has been shared countless times in the past with a similar story. Whenever there is an earthquake there are social media claims about this dog rescuing its owner or other survivors.
In July 2019, a 5.3 magnitude earthquake struck Greece affecting millions of people. The image of this dog went viral and Greek news websites had to carry out a fact-check.
A few months later in November 2019, the same image was linked to an earthquake in Albania.
In 2020, social media users declared that it was a loyal dog who would not leave its owner after an earthquake that hit the Turkish city of Izmir and the Greek islands.
Not even a news photo
When we tried to pin the origin of the photo, we were surprised to know that it was not even a news photo. It is a stock image offered for sale by stock image websites such as Shutterstock, adobe stock and others.
The photo has been credited to Czech photographer Jaroslav Noska and is available at Shutterstock under his name with other photos from his collection.
The same dog is seen among debris and its photos have been captioned "dog looking for injured people in ruins after earthquake." However, the photographer did not specify any location and date, so it is not clear where the photo was taken.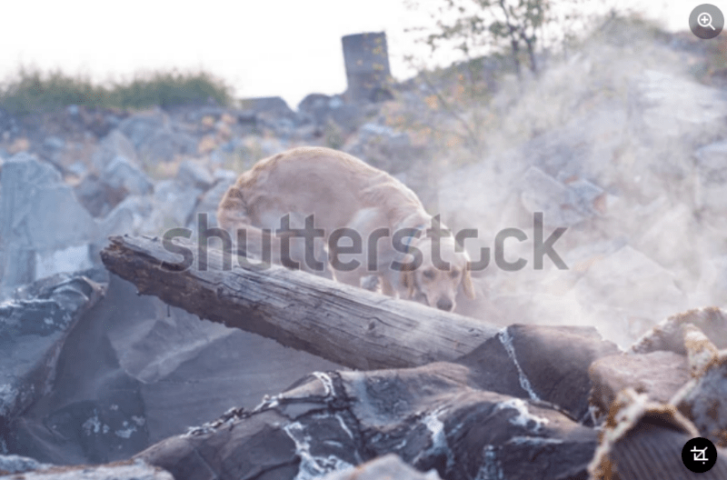 Stock images are usually produced by professional photographers and sometimes scenes are staged.
Jaroslav Noska did not respond immediately when international news agencies reached him for a comment.
Other fake images
A few other images have also been wrongly linked to the Turkiye earthquake.
One image shows a boy crying among ruins. The other shows an elderly man carrying what appears to be loaves of bread.
The image of the child is available at stock image websites. The photo of the elderly man was first published by CNN after a 6.1-magnitude earthquake that hit the town of Duzce in northern Turkey on November 23, 2022.
For the latest news, follow us on Twitter @Aaj_Urdu. We are also on Facebook, Instagram and YouTube.