Turkish leader declares state of emergency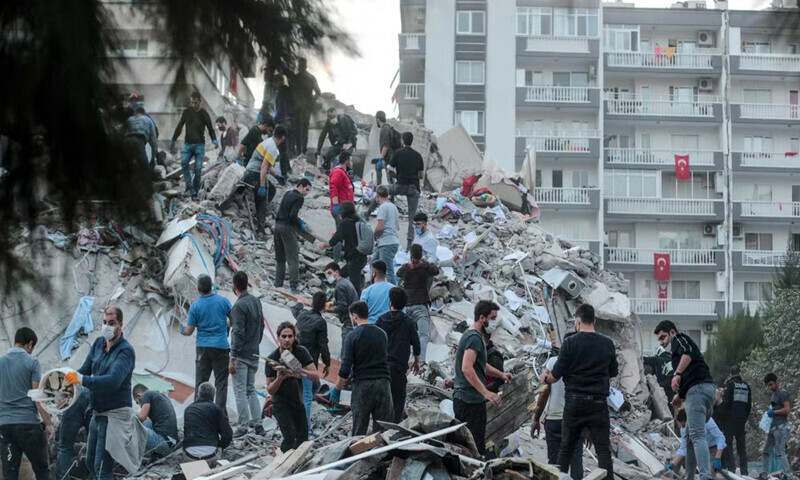 The death toll from a massive earthquake and several aftershocks — including a massive one — in Turkiye and Syria increased to over 7,800 by Wednesday morning.
Turkish President Tayyip Erdogan on Tuesday declared a state of emergency in 10 provinces devastated by earthquake and aftershocks.
Rescuers working in harsh conditions were struggling to dig people out of the rubble of collapsed buildings in a "race against time".
Dozens of young children have been rescued from the rubble and videos have made to social media.
As the scale of the disaster became ever more apparent, the death toll looked likely to rise considerably. One United Nations official said it was feared thousands of children may have been killed.
Thousands of buildings were toppled, hospitals and schools wrecked and tens of thousands of people were injured or left homeless in several Turkish and Syrian cities by the magnitude 7.8 quake - the deadliest in Turkey since 1999 - and a second one hours later.
Turkish President Tayyip Erdogan declared as a disaster zone in 10 provinces, imposing a state of emergency in the region for three months.
A UN official said thousands of children may be among the dead.
Harsh winter weather hampered search efforts and the delivery of aid and made the plight of the homeless even more miserable. Some areas were without fuel and electricity.
Aid officials voiced particular concern about the situation in Syria, already afflicted by a humanitarian crisis after nearly 12 years of civil war.
In Turkey, the death toll had climbed to 3,419 people by Tuesday morning, Vice President Fuat Oktay said. In Syria, the death toll stood at just over 1,600, according to the government and a rescue service in the insurgent-held northwest.
Pakistan sends aid
A 51-member rescue team from Pakistan was expected to land in Istanbul on Tuesday afternoon. The country also dispatched the first batch of aid to Turkiye on Tuesday.
"On the instructions of the government, the Pakistan International Airlines plane will arrive in Istanbul this [Monday] afternoon with a 51-member rescue team," Federal Minister for Railways and Aviation Khawaja Saad Rafique said in a Twitter thread.
The magnitude 7.8 quake - the deadliest in Turkey since 1999 - hit early on Monday and was followed by a second hours later.
Thousands of buildings were toppled, hospitals and schools wrecked and tens of thousands of people were injured or left homeless in several Turkish and Syrian cities.
The PK-707 flight departed from Lahore to Istanbul with the Pakistani rescue team and their special equipment. The government has also completed measures for the delivery of relief items on the flight.
Pakistan has also decided to keep the daily flight to Istanbul of its national flag carrier open all the time for government relief measures. "The delivery of relief goods has been made free on all PIA flights to Istanbul and Damascus. Goods can be delivered to PIA's cargo terminal through NDMA."
Prime Minister Shehbaz Sharif, who is scheduled to depart for Ankara on Wednesday, has decided to establish the PM's Relief Fund to support the earthquake victims of Turkey in their difficult times.
Pakistan's federal cabinet has announced its decision to donate its one month salary to the relief fund, Federal Information Minister Marriyum Aurangzeb said. The premier has appealed for the generous help of the friendly country.
'Every minute, every hour'
Turkish authorities say some 13.5 million people were affected in an area spanning roughly 450 km (280 miles) from Adana in the west to Diyarbakir in the east, and 300 km from Malatya in the north to Hatay in the south. Syrian authorities have reported deaths as far south as Hama, some 100 km from the epicentre.
"It's now a race against time," World Health Organization Director General Tedros Adhanom Ghebreyesus said in Geneva. "Every minute, every hour that passes, the chances of finding survivors alive diminishes."
Across the region, rescuers toiled through the night and into the morning searching for survivors as people waited in anguish by mounds of rubble, clinging to the hope that friends and relatives might be found alive.
In the Turkish city of Antakya, capital of Hatay province near the Syrian border, a woman's voice was heard calling for help under a pile of rubble. Reuters journalists saw the body of a small child lying lifeless nearby.
Weeping in the rain, a resident who gave his name as Deniz wrung his hands in despair.
"They're making noises but nobody is coming," he said. "We're devastated, we're devastated. My God… They're calling out. They're saying, 'Save us' but we can't save them. How are we going to save them? There has been nobody since the morning."
Families slept in cars lined up in the streets.
Ayla, standing by a pile of rubble where an eight-storey building once stood, said she had driven to Hatay from Gaziantep on Monday in search of her mother. Rescuers from the Istanbul fire department were working in the ruins.
"There have been no survivors yet," she said.
Turkey's Disaster and Emergency Management Authority (AFAD) said 5,775 buildings had been destroyed in the quake and that 20,426 people had been injured.
A large fire was still burning on Tuesday at Turkey's southern port of Iskenderun. Drone footage from Hatay showed dozens of collapsed apartment blocks, indicating the true death toll was likely to be far greater than the current tally.
In Geneva, UNICEF spokesperson James Elder said: "The earthquakes … may have killed thousands of children."
Scores of schools, hospitals and other medical and educational facilities had been damaged or destroyed, he said.
Syrian refugees in northwest Syrian and in Turkey were among the most vulnerable people affected, Elder said.
'Terrifying scene'
In the Syrian city of Hama, Abdallah al Dahan said funerals for several families were taking place on Tuesday.
"It's a terrifying scene in every sense," said Dahan, contacted by phone. "In my whole life I haven't seen anything like this, despite everything that has happened to us."
Mosques opened their doors to families whose homes were damaged.
The death toll in Syrian government-held areas rose to 812, state news agency SANA reported. In the rebel-held northwest, the toll was more than 790, according to the Syrian civil defence, a rescue service known as the White Helmets and famous for digging people from the rubble of government air strikes.
"There are lot of efforts by our teams, but they are unable to respond to the catastrophe and the large number of collapsed buildings," group head Raed al-Saleh said.
Time was running out to save hundreds of families trapped under the rubble of buildings and urgent help was needed from international groups, he said.
A UN humanitarian official in Syria said fuel shortages and the harsh weather were creating obstacles.
"The infrastructure is damaged, the roads that we used to use for humanitarian work are damaged," UN resident coordinator El-Mostafa Benlamlih told Reuters from Damascus.
Poor internet connection and damaged roads between some of the worst-hit Turkish cities, homes to millions of people, also hindered efforts to assess the impact and plan help.
Monday updates
President Tayyip Erdogan, who is preparing for a tough election in May, called it a historic disaster and the worst earthquake to hit Turkiye since 1939, but said authorities were doing all they could.
"Everyone is putting their heart and soul into efforts although the winter season, cold weather and the earthquake happening during the night makes things more difficult," he said.
Live footage from Turkish state broadcaster TRT showed a building collapse in the southern province of Adana after the second quake. It was not immediately clear if the building was evacuated.
In Syria, already wrecked by more than 11 years of civil war, the health ministry said 538 people had been killed and more than 1,326 injured. In the Syrian rebel-held northwest, emergency workers said 390 people had died.
The Norwegian Refugee Council said the earthquake would only add to the suffering of millions of Syrians already enduring a humanitarian crisis due to the civil war.
The quake killed at least 430 people and left at least another 1,315 injured in government-controlled parts of Syria, including the provinces of Aleppo, Hama, Latakia and Tartus, the health ministry said. In rebel-held parts of the northwest of the country, at least 380 people were killed and more than 1,000 were injured, The White Helmets rescue group said.
Men carried a girl wrapped in blankets from a collapsed building in the city.
"The toll may increase as many families are still trapped," the White Helmets rescue group, which operates in rebel-controlled areas of the war-torn country, said on Twitter.
"Our teams are on the ground searching for survivors & removing the dead from the rubble," it added.
AFP correspondents in northern Syria said terrified residents ran out of their homes after the earthquake struck before dawn near the Turkish city of Gaziantep, about 40 kilometres (25 miles) from the Syrian border.
Rescuers rushed to search for survivors under the rubble of collapsed buildings in the pouring winter rain.
Television images showed shocked people standing in the snow in their pyjamas, watching rescuers dig through the debris of damaged homes.
The quake struck at 04:17 am local time (0117 GMT) at a depth of about 17.9 kilometres (11 miles), the US agency said, with a 6.7-magnitude aftershock striking 15 minutes later.
Turkish Interior Minister Suleymon Soylu said 10 cities were affected: Gaziantep, Kahramanmaras, Hatay, Osmaniye, Adiyaman, Malatya, Sanliurfa, Adana, Diyarbakir and Kilis.
Turkiye's AFAD emergencies service centre put the first quake's magnitude at 7.4.
"I convey my best wishes to all our citizens who were affected by the earthquake," Turkish President Recep Tayyip Erdogan tweeted.
"We hope that we will get through this disaster together as soon as possible and with the least damage."
The earthquake levelled dozens of buildings across major cities of southern Turkiye as well as neighbouring Syria, a country gripped by more than a decade of violence that has killed hundreds of thousands and displaced millions of people.
Images on Turkish television and social media showed rescuers digging through the rubble of levelled buildings in the city of Kahramanmaras and neighbouring Gaziantep.
A fire lit up the night sky in one image from Kahramanmaras, although its origin remained unclear.
In Aleppo alone, 24 people had died and 100 were injured when 20 buildings collapsed in the province, the official news agency SANA had said, quoting an official in the province.
Even before the tragedy, buildings in Aleppo, Syria's pre-war commercial hub, often collapsed due to the dilapidated infrastructure after more than a decade of war as well as little oversight to ensure safety of new construction projects, some built illegally.
SANA said the earthquake was felt from the western coast of Latakia to Damascus.
"This earthquake is the strongest since the National Earthquake Centre was founded in 1995," Raed Ahmed, who heads the centre, told SANA.
Near the border town of Azaz, an AFP correspondent saw rescuers pull out survivors as well as five bodies out of the rubble of a three-storey building that crumbled.
'Biggest earthquake'
The tremors were felt in Lebanon, Syria and Cyprus, according to AFP correspondents.
Syrian state television reported that a building near Latakia, on the west coast of Syria, had collapsed.
Pro-government media said several buildings had partially collapsed in Hama, central Syria, with civil defence and firefighters working to pull survivors out of the rubble.
Raed Ahmed, who heads Syria's National Earthquake Centre, told pro-government radio that this was "historically, the biggest earthquake recorded in the history of the centre".
Turkiye is in one of the world's most active earthquake zones.
The Turkish region of Duzce suffered a 7.4-magnitude earthquake in 1999 – the worst to hit Turkiye in decades.
That quake killed more than 17,000 people, including about 1,000 in Istanbul.
Experts have long warned a large quake could devastate Istanbul, which has allowed widespread building without safety precautions.
A magnitude-6.8 quake hit Elazig in January 2020, killing more than 40 people.
And in October that year, a magnitude-7.0 quake hit the Aegean Sea, killing 114 people and wounding more than 1,000.
Condolences pour in
Pakistan President Arif Alvi has offered his condolences over the loss of lives in the deadly quake and said that his sympathies are with Turkeyi.
Prime Minister Shehbaz Sharif said that he was saddened by the news of a massive earthquake.
The Foreign Office in a statement expressed grief over the loss caused by a severe earthquake that hit parts of Southern Turkiye and Syria, resulting in the loss of lives and extensive damage to property.
"Pakistan stands ready to extend all possible support in the relief effort. We are confident that the resilient Turkish nation will overcome this natural calamity with characteristic grit and determination," it said.
German Chancellor Olaf Scholz promised aid after a 7.8-magnitude earthquake struck Turkey and Syria, killing hundreds of people as they slept.
"We are following the news of the earthquake in the Turkish-Syrian border region with shock," Scholz said on Twitter. "Germany will of course send help."
French President Emmanuel Macron has said his country stood ready to provide emergency aid to Turkey and Syria after a massive earthquake.
"We are receiving terrible images from Turkey and Syria following an earthquake of unprecedented force," Macron tweeted.
"France is ready to provide emergency relief to the populations on the ground. Our thoughts are with the bereaved families," said the French president, whose relations with Turkish President Recep Tayyip Erdogan have often been strained.
French Foreign Minister Catherine Colonna, also on Twitter, said that she had sent her "sincere condolences" to her Turkish counterpart Mevlut Cavusoglu, his country and his people.
"France is by their side," she said.
President Vladimir Putin expressed condolences and also offered Russian aid to Turkey and Syria.
"We share the sadness and the pain of those who lost their loved ones and we hope for a speedy recovery for all the injured, and are ready to provide the assistance needed to overcome the impact of this natural disaster," Putin said in a message to Syria's President Bashar al-Assad.
In a separate message to Turkey's President Recep Tayyip Erdogan, Putin asked him to "convey words of sincere sympathy and support" to the families of the victims and said Russia was "ready to provide required assistance".
For the latest news, follow us on Twitter @Aaj_Urdu. We are also on Facebook, Instagram and YouTube.
Taboola
Taboola ads will show in this div
Next Story