Many parties from Pakistan's political spectrum take part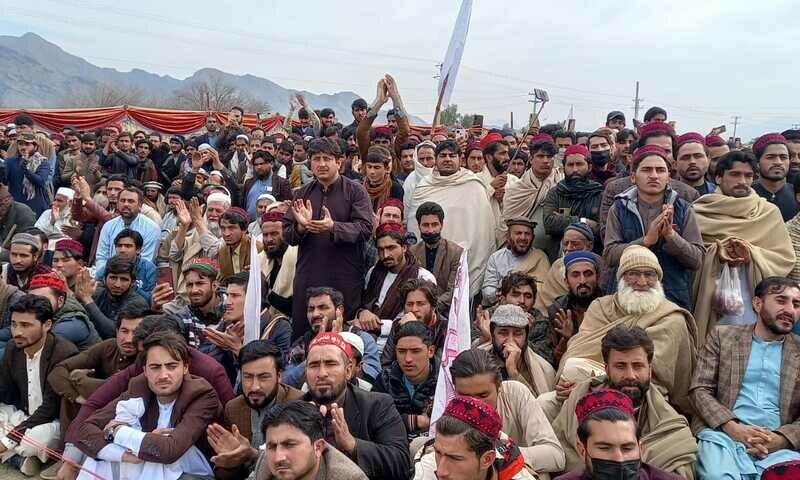 Thousands of people gathered in Mohmand, Khyber Pakhtunkhwa for a demonstration on Sunday to protest against the recent wave of terrorism, unrest, hatred, and insecurity. Manzoor Pashteen, Senator Mushtaq Ahmad Khan, and Sardar Hussain Babak were among the prominent speakers.
This is a follow-up of a similar protest in Peshawar on Saturday. The demonstration was organised by a local youth organisation, Swat Ulasi Pasoon (People's Uprising).
Though, such protests started last year after the suspected arrival of troublemakers in the province that shares a border with Afghanistan. But, people have come out in large numbers to condemn the militancy after a suicide bomber took 102 lives and wounded more than 200 people in a mosque situation supposedly in a highly fortified area in Peshawar.
It was an attack that prompted the chief of army staff to say at the 255th Corps Commanders conference on Jan 31 that there would be "zero tolerance for any terrorist entity". Condemnation poured in on the floor of the National Assembly as well, where Defence Minister Khwaja Asif asked how the Taliban were allowed to regroup.
Like, Peshawar, Manzoor Pashteen of the Pashtun Tahaffuz Movement also received a rousing welcome upon his arrival in Mohmand. "It is not one person's problem as [many] children, elderly, women, businessmen, and sepoys have lost their lives. Every political party has lost its workers. We have to show mutual concern and unity. Pashtuns must be embraced by all political parties. All must have a common voice and purpose," he said in his speech.
He stressed the need for ending hatred and called for unity among Pashtuns. Pashteen lamented the lack of facilities in the province, adding they want the right to national resources.
Senator Mushtaq Ahmad Khan of Jamaat-e-Islami said that the people of KP want peace and livelihood. He suggested that the border should be fenced in order to curb terrorism.
Khan Zaman Kakar of Awami National Party said: "The nation has woken up. Now we will not hold funerals."
Awami National Party's provincial general secretary Sardar Hussain Babak praised the youth of Mohmand at the mammoth rally. "Our demand and the children of the nation need peace in this region and authority over resources. We consider this region as our own and value it like a mother. We are its claimants," he said.
The ANP has suffered a lot in terrorist attacks. Many of its top-tier leadership lost their lives when the country was battling terrorism. "The ANP did not complain to the nation. We want to keep the Pashtun traditions alive and consider everyone's grief as its own," Babak said.
"We request that a fatwa be given against the ongoing terrorism in the light of Quran and Hadith. Those who rise against oppression are our companions," he said and called for unity and stressed that political parties should raise their voices for the oppressed.
Bannu
Separately, a protest was held in Bannu that was organised by the National Democratic Movement (NDM). NDM head Mohsin Dawar also participated in it.
"There was not a single stone in KP that was not covered with innocent blood. We have to vow there will be no more war," he said in his speech.
Dawar, who is also an MNA, added that the struggle against terrorism had to be a political one. "The Pashtun people will not allow themselves to be made an accessory in the war. Despite the costs borne by the Pashtun people in the fight against terror, their conditions had not improved. No one wiped our tears," he said.
He spoke about the state of Pashtun children in the wake of the war on terror. "Till when will our children polish shoes and work as security guards?" he asked the crowd, adding that change in Waziristan was inevitable, the first step of which would be a university in the tribal area.
The Madakhel Wazir tribe announced that they would throw their weight behind the NDM. Dawar told them that their rehabilitation after the devastation caused by the war on terror would be ensured.
For the latest news, follow us on Twitter @Aaj_Urdu. We are also on Facebook, Instagram and YouTube.