Air pollution in Karachi likely results in excess of 2,000 deaths a year, new study finds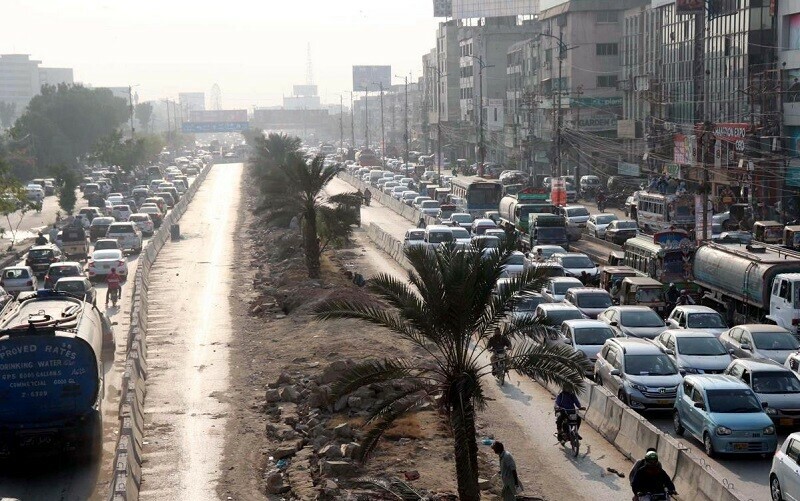 Pollution in Karachi comes from many sources, including high traffic and many industrial units. A new study sheds light into how this pollution may be affecting the health of Karachi residents.
The study was published in January in the journal Environmental Monitoring and Assessment, and was an international collaboration between researchers in Karachi, Qatar, Saudi Arabia, and the United States.
Over a one-year period, the nine-member team obtained approximately 400 air samples. They then used a technique called ion chromatography to determine the concentrations of four different air pollutants in this sample, including nitric oxide. Nitric oxide is an air pollutant that can be deadly in high concentration. They found that Karachi has some of the highest recorded nitric oxide concentrations in the world.
The objectives of this study were to investigate the levels of gaseous pollutants (NO, NO2, O3, HNO3, and SO2)
Using these results, the team was able to estimate how many deaths in Karachi are due to air pollution. Based on their results from the four tested pollutants alone, they found that at least 2,000 people in Karachi die per year due to pollution.
The observed SO2 or Sulphur Dioxide seasonal average concentration in the fall was 5 times higher than that in summer. The fall 24-hour average exceeded the WHO daily guideline by a factor of about 15.7
Professor Zafar Fatmi is a Professor of Environmental Health at Aga Khan University and one of the authors of this study. Over email, he explained that this estimated number of annual deaths is likely a significant underestimate, sharing that "air pollution are not only gases but a major component is particulate matter. Therefore, the overall deaths and diseases associated with air pollution are much more."
Our team also discussed these findings with the corresponding author, Professor Haider Khwaja who is an Associate Professor of Environmental Health Science at the University of Albany (USA). Over email, he told us that, "there is a major environmental problem of concern in major cities of Pakistan" and that "education of students, health professionals, and the general public is the need of the hour."
To address this problem, Professor Khwaja emphasized four necessary steps for Pakistan to improve its air pollution: (1) political will, (2) capacity building, (3) additional research and data collection for monitoring and health tracking, and (4) a "need for collaboration among health and environmental scientists and regulatory agencies at a provincial scale."
For the latest news, follow us on Twitter @Aaj_Urdu. We are also on Facebook, Instagram and YouTube.