Party chief Imran Khan will address party workers at Rahwali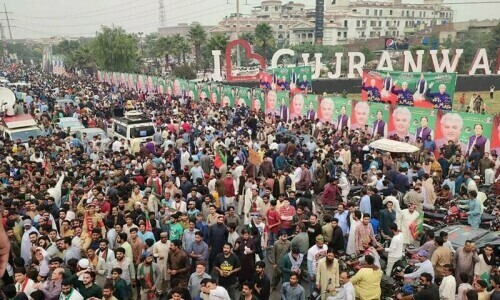 LAHORE: The Pakistan Tehreek-e-Insaf would resume its anti-government campaign, 'Azadi March', from Rawalpindi bypass, Gujranwala. It would be the sixth day of the PTI's long march.
"The cavalcade will leave at 11:30am [from Gujranwala] under the leadership of Imran Khan," Musarrat Jamshed Cheema, the Punjab government spokesperson said in a statement. "PTI chief Imran will address party workers at Rahwali."
They will stop at Gakhar after the former premier's address. "The people are fed up with the PDM and looking towards Imran. Incidents such as restrictions on freedom of expression and violence against journalists are common in the fascism of the imported government."
In an apparent reference to the incumbent government, she alleged that the group rejected by the people was allowed to "openly propagate" while her party, which according to her was supported by the people, was not allowed to speak.
Musarrat said that the Pakistan Democratic Movement, despite having all the resources could not convince the people. She claimed that the government was irked by a large number of people at the long march.
"If there is no threat from the Azadi March, then why the government has approved a grant of Rs410 for the security of Islamabad," she asked, "thousands of FC, police, and Rangers personnel have been deployed in the federal capital because of this fear."
For the latest news, follow us on Twitter @Aaj_Urdu. We are also on Facebook, Instagram and YouTube.
Taboola
Taboola ads will show in this div
Next Story