Interior Minister Rana Sanullah says National Action Plan should be implemented to maintain order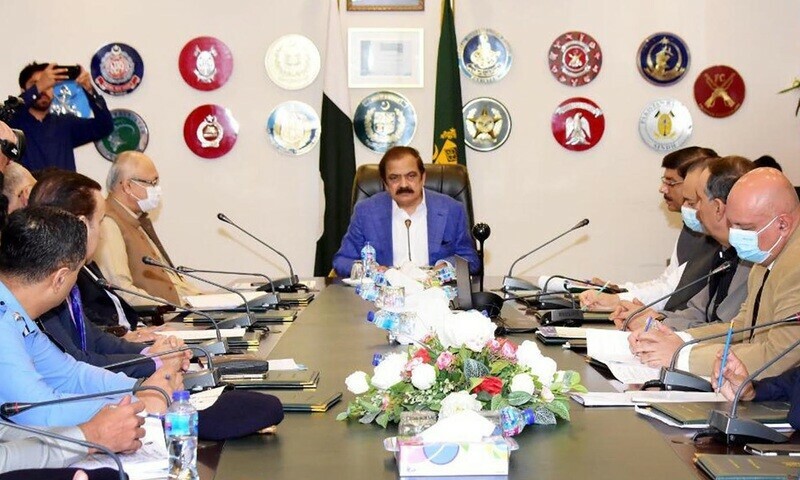 QUETTA: Muharram moon has not been sighted in any part of the country, therefore first of Muharram will fall on July 31, 2022, the national body tasked with the moon-sighting mission announced on Friday.
"We did not receive the testimony of moon sighting from any nook and cranny of the country," Maulana Syed Muhammad Abdul Khabir Azad, the Central Ruet-e-Hilal Committee chairman, said. "Therefore, it was decided with mutual understanding of all the members of the committee that 1st of Muharram-ul-Haram, 1444 Hijri would fall on Sunday, July 31 and the 10th of Muharram-ul-Haram would be on Tuesday, August 9."
He added that the Muharram moon was not sighted due to dense cloudy weather conditions in most areas of Pakistan. Azad had presided over the committee's meeting at the deputy commissioner's office in Quetta.
Azad urged people to create an environment of peace and interfaith harmony and promote the "message of Pakistan" to avert any untoward incident in the holy month of Muharram.
"It is the moral and religious obligation of every Muslim to project the 'message of Pakistan' as much as one could do," he said and prayed for the unity of the Muslim Ummah, safety and sanctity of the Haramain Sharifain, sovereignty and stability of Pakistan and independence of Indian Illegally Occupied Jammu and Kashmir and Palestine."
Civil armed forces will be deployed during Muharram
The federal government has decided to deploy civil armed forces in all the provinces including Azad Kashmir and Gilgit-Baltistan to ensure law and order during Muharram.
"The decision was taken at a high-level meeting held here on Friday with Interior Minister Rana Sanaullah in the chair," said a press release.
Officials in their briefing said that a control room would be set up to monitor the security situation during the holy month. They added that special teams would also be constituted for ensuring the security of processions and gatherings.
The huddle decided that strict monitoring of social media would be ensured to prevent the spread of hateful content and religious hatred. Officials recommended an uninterrupted round-the-clock power supply during Majalis timing on the 9th and 10th of Muharram.
"Peace and order would be ensured at all cost during the Muharram. Foolproof security would be made for Majlis and procession routes," Sanaullah said.
He directed the interior ministry to ensure the deployment of civil armed forces on the proposal of all provincial, AJK and GB governments. "National Action Plan should also be strictly implemented to maintain law and order," he added.
Guidance would be sought from the Ulemas and Mashaikh for creating harmony, he said, adding that effective measures would also be taken to prevent hatred content on social media, he said.
"Religious hatred and incitement will not be accepted," he said and directed the law enforcement agencies to take strict action against the violators.
For the latest news, follow us on Twitter @AajEnglishNews and @Aaj_Urdu. We are also on Facebook, Instagram and YouTube.