Cops recovered the couple from a lawyers house after tracing their location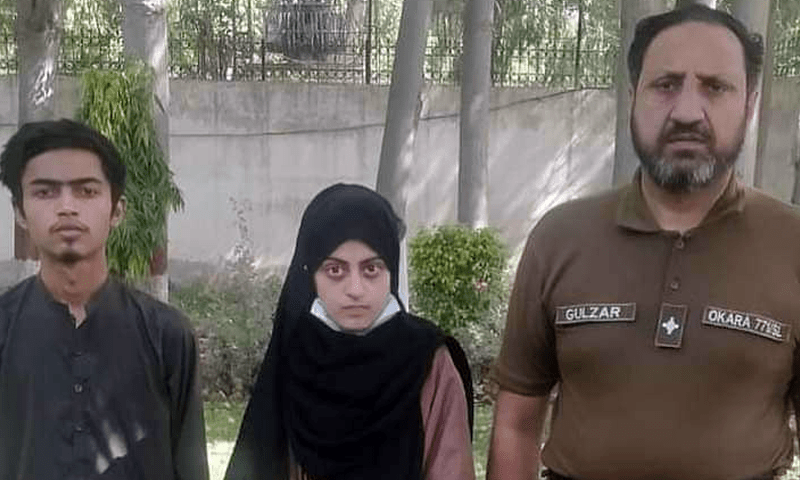 LAHORE: The Punjab and Karachi police have claimed to have recovered Dua Zehra and her husband Zaheer Ahmed, the couple who had married of their own free will in Lahore after escaping from Karachi, from a lawyer's house in Bahawalnagar's Tehsil Chishtian in a joint operation on Saturday night.
They were taking refuge in a lawyer's house, they said, adding that the couple would be handed over to the Karachi police after presenting them before a local court. However, Aaj News correspondent through sources reported that the couple was recovered from a banker's house.
The IG Sindh had requested the Punjab police to bring Dua Zehra. The couple was consistently changing their location, which was creating hurdles for the cops to trace them.
The Sindh High Court had ordered that Dua Zehra must be presented before the court by June 10 after her recovery. Moreover, the Sindh IG was also removed from his post over the failure to recover the girl.
Zehra went missing from Karachi's Korangi area on April 16 and was found in Punjab when she declared that she had married a young man, Zaheer, according to her own free will.
Public help
In a press release on Saturday, the Mansehra police sought the public's help in tracing Dua Zahra and her husband as the couple. They also shared the handout in a Facebook post with pictures of the couple.
"The couple was wanted by the police to be produced before the Lahore High Court or any other such legal entity in the country. Dua Zahra and Zaheer Ahmad had married off in the court after the latter declared the girl as mature enough to tie the knot. However, her father countered her puberty claim," said the press release.
"This is a legal issue and attempts are being made to present it as an issue of colour and nationality," it read and stressed the couple has to be presented before the court in order to ascertain their age. The police assured them of providing every security.
For the latest news, follow us on Twitter @AajEnglishNews and @Aaj_Urdu. We are also on Facebook, Instagram and YouTube.