Market remains gripped with uncertainty after government says it will not let PTI hold its long march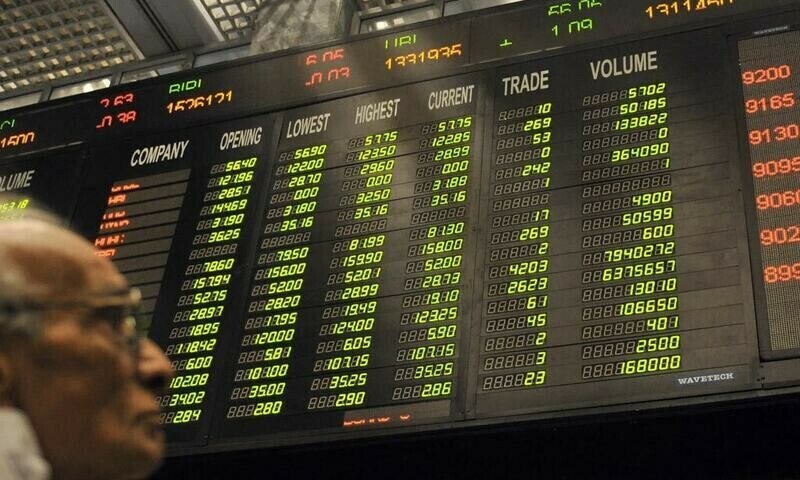 Ongoing political uncertainty dented sentiments at the Pakistan Stock Exchange (PSX), as the benchmark KSE-100 Index dropped over 500 points during intra-day trading on Wednesday.
At the time of filing this report, the KSE-100 Index was being traded at 41,448.94, registering a loss of 501.38 points or a percentage fall of 1.20%. At close on Tuesday, the KSE-100 had fallen 1.15% to finish at 41,950.32, the lowest level since December 1, 2020, when it finished at 41,665.27.
KSE-100 falls below 42,000 mark, closes at lowest level since Dec 2020
The market remains gripped with uncertainty after Pakistan Tehreek-e-Insaf (PTI) Chairman Imran Khan called for a long march on Islamabad today. "The political uncertainty, especially the long march, has lead to this expected negative reaction in the market," Sana Tawfik, vice-president research and a senior analyst at Arif Habib Limited (AHL), told Business Recorder.
Interior Minister Rana Sanaullah on Tuesday announced that the federal cabinet has decided to stop the PTI from holding a long march in order to ensure the safety and security of the residents of the capital. But Imran Khan said that he would go ahead with the protest.
Meanwhile, in a positive development on Tuesday, Saudi Minister of Finance Mohammed al-Jadaan said the kingdom is finalising the extension of its $3 billion deposit to Pakistan.
Tawfik said that the market will remain under pressure throughout the day, and would continue to remain in 400-500 points down range. "The announcement by Saudi Arabia regarding the extension of $3 billion deposit to Pakistan is a positive development. However, the political noise is overpowering the sentiments," she said.
For the latest news, follow us on Twitter @AajEnglishNews and @Aaj_Urdu. We are also on Facebook, Instagram and YouTube.