Wins hearts all over social media for his gesture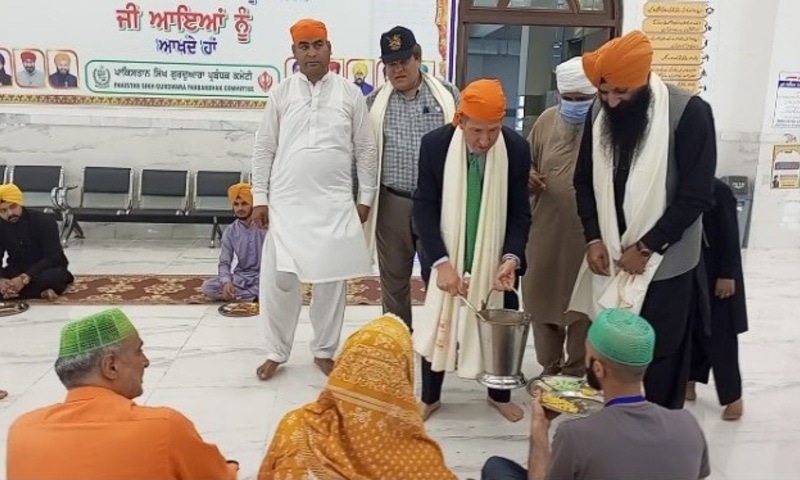 British High Commissioner Christian Turner on Friday served food at the Kartarpur Corridor langar, winning praise from netizens across social media.
In a series of tweets, the British envoy shared pictures of the Kartarpur Corridor visit. Prime Minister Imran Khan on November 19, 2019, inaugurated the Kartarpur Corridor. The corridor was inaugurated on the 550th birth anniversary of Baba Guru Nanak.
"Visiting Sikh friends at KartarpurCorridor celebrating unity and connections, strength in diversity and healing divisions across borders," Turner's tweet said.
In addition to this, another video of Turner's visit to Kartarpur went viral on Twitter. In the video, he can be seen talking to pilgrims and appreciating how devotees flock to the temple from different parts of the world.
"We have been working on interfaith harmony, diversity, tolerance, religious freedom... and what has been achieved here is fantastic," he said and expressed his delight over people coming from across the world with a "shared face." The British high commissioner said that he was "happy" to be at the corridor.
Twitteratis were delighted to see the moment.
One of the users was "happy" to see the envoy serving the public.
This user just "loved it."
Another user expressed his gratitude in Urdu.
For the latest news, follow us on Twitter @AajEnglishNews and @Aaj_Urdu. We are also on Facebook, Instagram and YouTube.