The attitudes of the Taliban regarding education are noticeably changing after their key leadership has experienced...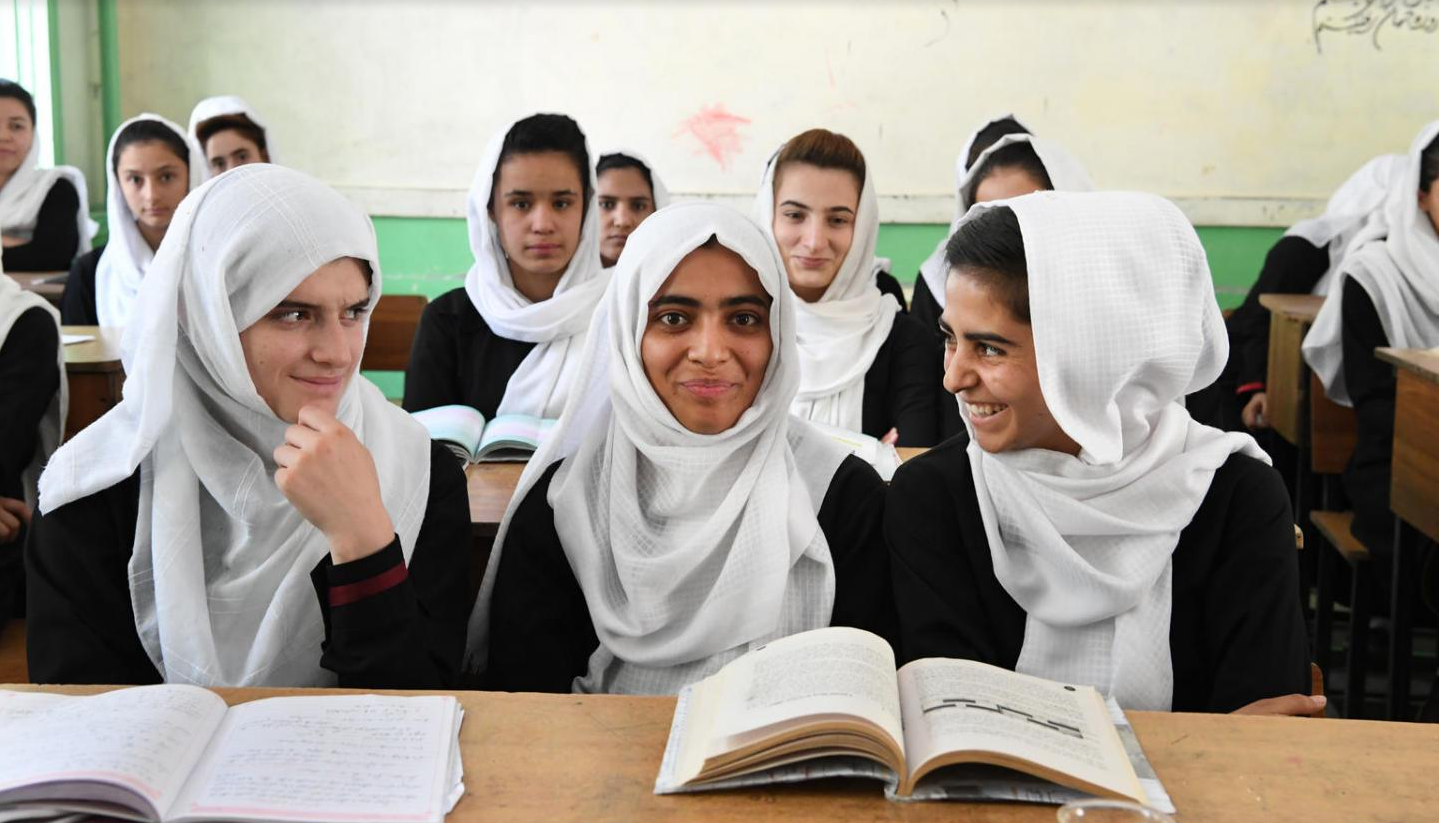 Analysts believe the Taliban's attitude on education has changed after their key leadership experienced the benefits of urban life and modern services and amenities while living in different metropolitan cities of the world. The group that once banned girl's education in Afghanistan now seem to be seeking out school and high education for their own children – both boys and girls, reported the Afghanistan Analysts Network.
The Afghanistan Analysts Network is an independent non-profit policy research organization that aims to bring together the knowledge, experience and drive of a researchers, analysts and experts to better inform policy and to increase the understanding of Afghan realities.
AAN has published a three parts series called "Who gets to go to school?" on the Taliban and education, which scrutinized the current state of schooling in Afghanistan and examined how and why the Taliban's attitudes towards education have changed.
The first part of the series that came out on January 26th elaborated on the state of education in the Afghanistan after Taliban took over in August 2021. "Taliban policy towards women and girls is one of the prisms through which the movement has been studied – and judged – ever since the Taliban first came to power in the mid-nineties. A touchstone for many Afghans and outside observers was whether, after capturing power nationally in August 2021, they would allow girls to go to school," said the report.
The Taliban did reopen girls' primary schools but the same was not done for girls' secondary schools. While some schools reopened, others remained shut. This was more than what the group allowed during their first tenure when they completely prohibited girls' education, but was far less than what the Afghans wanted for their daughters. The Taliban however, argue they would reopen schools for secondary girls once they've made sure that the environment is safe. But this could mean ongoing closure, feared many.
The school year ended in most of Afghanistan on 22 December yet the plan to make girls' secondary schools "safe" has not been announced. Hence, the schools remain largely closed.
A tribal elder from the Baraki Barak district in Logar said during an interview, "The schools here were closed for two years because of Covid-19, but now I am sending my children to school [again]. It's been a month since the mid-term exam began. Both girls' and boys' schools are open, but the Taliban have imposed restrictions on girls' schools. They're allowed only to study from grade one to six.
"They used to go to school here up to the 9th grade and after that, went to the girls' high school in the district centre. Now, the Taliban allow girls to study the higher grades at home with a female teacher. They've also allowed them to take the exams, as long as a female teacher or an old male teacher invigilates. They don't have separate or specific classes for them yet, but they have decided to do so [in the future]."
The second part of the series, "The Taliban and education through time," puts the current Taliban education policy in context by drawing a bigger picture depicting the evolution of the group's thinking on education.
The new Education Minister, Sheikh Nurullah Munir said that the Taliban are concerned with what sort of education is suitable for Afghan children. It wants an education guided by the principles Islamic sharia and one which promotes a national and Islamic spirit.
In an interview with Al Jazeera last year, Munir said they were trying to "Islamise" the existing curriculum as it had some "un-islamic" elements. "If we find content that contradicts shari'a law in any textbook, we will have to replace it. Subjects such as physics, geology, chemistry, and engineering will remain intact, but if there are things that contradict shari'a law, the laws of our country, or our customs and traditions, we will have no choice but to take the necessary steps. Some topics, like music, existed in the previous curriculum, but they are not compatible with our customs, religion, and traditions," he said.
During the last forty years of conflict and even before that, education in Afghanistan has been surrounded by controversy. All the governments and armed groups have used it as a "political tool" and used the curriculum as "leverage" to further their agendas. "Both the early People's Democratic Party of Afghanistan (PDPA) governments and the post-2001 Republic promoted – and the PDPA tried to enforce – education in order to display 'modernity', progress and nation-building," said the AAN report. As a result, both the mujahedin in the 1980s and the Taliban saw schools as sites for spreading "un-Afghan" and "un-Islamic" propaganda.
A relatively new trend has been witnessed in the current Taliban Emirate. According to the third part of the AAN series, some Taliban are now seeking out schools and university education for their sons and daughters.
What are the forces behind these changing attitudes towards education?
The first is the impact of urban life. While most of the first generation Taliban had exclusive rural upbringing, the current generation has been exposed to the city life and modern amenities and services. They've experienced living in large metropolitan cities around the world including Karachi, Dubai, and Doha and they've enjoyed difference elements of the societies including education in schools, for their sons and their daughters.
Moreover, the current generation of Taliban have at-least some madrassa education be it primary schools or high school which is unlike their predecessors, who only ever went to madrassas. One Qatar-based Taliban official who has been a member of the political office has two daughter who go to school. "We lived for three years not much bothered by education, but since everybody in the neighbourhood was going to school, our children demanded that they go to school too. So, in the fourth year, I had to send my three sons and two daughters to school," he said.
Some Taliban based in Pakistan had the option to choose between sending their children to madrassas or schools. "According to a well-informed source who lives in Pakistan in a neighbourhood with an abundant Taliban presence, his female relative taught English and Arabic language to the daughters of four Taleban military commission members and shadow governors for the southern region during the 2010s," said the AAN report.
Citing another source within the Taliban leadership in Pakistan, the report said, "some leadership members and mid-ranking officials are opting to send their daughters to Iqra schools in Pakistan; this international network teaches a mixture of 'modern' school and madrasa subjects, with a wider range of religious subjects than the current Afghan school curriculum."
"The Iqra system is very good for Taliban who are looking to educate their boys and girls. It's an Islamic educational system that teaches both modern school subjects and madrasa subjects. Most of our friends were looking for this kind of mixed system, and after this system was established in some cities like Karachi and Quetta,[1] they were sending their boys and girls to these schools," said a Taliban official in the report.
Some Taliban commanders and fighters who have taken jobs in civilian ministries post Taliban take over, have started taking English and Computer courses in private educational institutions.
Another emerging trend in the current generation of Taliban is that there are choosing to marry educated, urban women as their second and third wives.
One Taliban official holding a high-level position in a ministry told AAN, "In the past, it was not common practice because very few women were literate, but now you can find well-educated women everywhere. Education allows them to live a good life. They know the rights of a husband better and can better train (tarbia) your sons and daughters. This is why a literate wife is a necessity nowadays."
"So, how to explain why some senior and mid-ranking Taliban cadres are getting their own daughters educated, with some also showing that they value education in a wife, while at the same time, their government has effectively been blocking many Afghan girls from going to school? It leaves these men, for now at least, open to the charge of preventing others enjoying benefits that they themselves have been able to access," said the AAN report.
It's possible that these men fear hostility from those who oppose girls' education and they might not want to risk their positions within the group for being vocal about girls' right to education. The question is, even if they speak up, would the children who don't even have schools in their localities be able to gain education?
"The Republic did not succeed in establishing schools, especially for girls, everywhere due to a mixture of hostile attitudes among the local civilian population and/or Taleban commanders, insecurity and corruption. The chances that those children might now see new schools opened may be reduced, even where there is demand," said the report.
The take away from the report is that the desire for schooling for boys and girls is now more widespread in the Taliban than it was before. The group's leadership has discovered the importance of education and the value of schools for their own children; hence, education might become difficult for the new authorities in Afghanistan to ignore.
For the latest news, follow us on Twitter @Aaj_Urdu. We are also on Facebook, Instagram and YouTube.