Pakistan Muslim League-Nawaz (PML-N) president Shehbaz Sharif's remarks on Tuesday about the formation of a...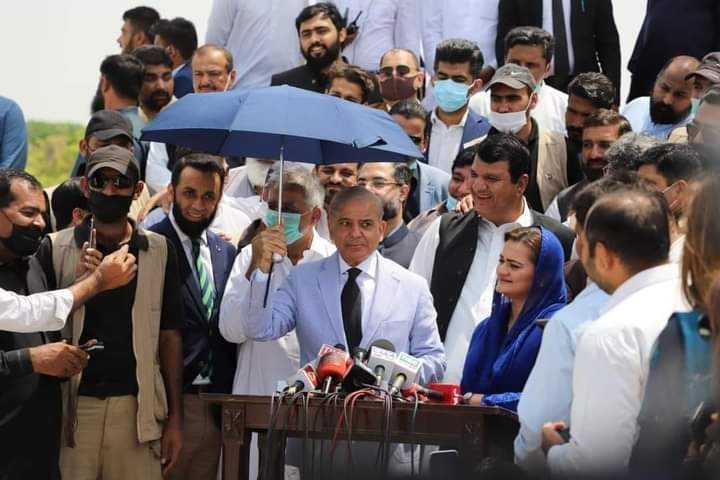 Pakistan Muslim League-Nawaz (PML-N) president Shehbaz Sharif's remarks on Tuesday about the formation of a national government -- which he also spoke about in 2018 -- have created a stir in political circles.
Sharif said Pakistan faces huge challenges which no single party can resolve, including his party.
The PML-N said Shehbaz was expressing a personal opinion which did not reflect the party position.
In a statement carried by Dawn, party spokesman Marriyum Aurangzeb said: "PML-N president and National Assembly Opposition Leader Shehbaz Sharif made a passing remark that if the people of Pakistan by the grace of God Almighty gave the PML-N the responsibility to govern again after the next elections, in his personal view he would not mind inviting other political parties, excluding the PTI, to contribute towards solving the massive crisis created by the Imran Khan government over their disastrous tenure in government,."
In a meeting with journalists during his visit to Karachi Dawn reported Shehbaz as saying: "Frankly, I am telling you that sometimes when I look at these huge problems and challenges, I feel convinced that it's not possible for one party alone [to fix them]," he had said, adding: "It needs collective wisdom. It requires collective efforts. That's why I think we should have a national government in place to sort out these huge tasks. I don't know what the exact shape of this idea would be and the right time may make things clearer but for me it's crucial. Even if we [PML-N] win a majority, we can't fix it alone."
Many analysts are seeing Shehbaz's comments in the light of rumors the PTI may call for early elections, ahead of 2023 when it completes its 5-year tenure.
There were many reactions to Shehbaz's statement.
The PPP said his comments showed the Pakistan Democratic Movement was not a functional movement and that Shehbaz wanted to stay "politically active."
Information minister Fawad Chaudhry, who has been a fierce opponent of Shehbaz especially, described his comments about a national government an attempt to "save his own skin."
The PDM held a rally in Karachi on Sunday in which PML-N leaders spoke on the occasion including Nawaz Sharif who gave a fiery speech over video from London.
Maulana Fazlur Rehman also gave a hard hitting speech saying they want to remove the current government and also criticized PPP.
This is not the first time Shehbaz has spoken of a national government to help the country of the crisis. His interview to Kamran Khan in 2018 promoting this idea also sparked controversy and rumors that he had entered some power sharing deal with the establishment.
Another tweet from 2019 sheds light on what Shehbaz was thinking.
But his most recent comments have not received much support this time round like they did in 2018 and 2019.
For the latest news, follow us on Twitter @Aaj_Urdu. We are also on Facebook, Instagram and YouTube.
Taboola
Taboola ads will show in this div
Next Story