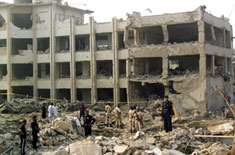 Police on Friday released the sketches of assailants of CID Centre Karachi with the help of eye witnesses.
Civil lines police station blast case was also registered in Artillery maidaan police station on the complain of Inspector Faisal against the unknown persons.
Earlier Sindh Chief Minister, Syed Qaim Ali Shah, here announced Rs.2 million each for the heirs of the personnel of Police and FC who embraced martyrdom while tackling terrorists at the CID Centre Karachi on Thursday.
A plot each would also be given to them, says an official statement issued here on Friday.
It said that the heirs of those who lost their lives in Thursday's blast would be given Rs. 500,000 each.
Those who were seriously injured in the blast would be given Rs. 50,000 each, it was further stated.